Product detail:
Item : 3D Spacer Mesh

Composition: 100% Polyester

Item No.: 1305-240-220

Feature: Elastic, Pressure-relief, Comfortable , Durable, Washable , Quick Dry, Eco-friendly.W

Width:220CM

Color : RAW WHITE or Customer Suggested

Function:

Climate regulating

Permanently elastic with memory effect

Can be washed and cleaned

Perfect fit on complex shapes

Hygienic

Recommended for allergy sufferers

Recyclable

Lightproof

Suitable for indoor and outdoor use

Extremely lightweight

Variety of constructions in surface and function

Flame retardant function - optional

What's is Spacer Fabric?
Spacer Fabric is textile construction consisting of two outer surfaces (top and bottom) which are spaced at a defined distance from one another by a woven layer known as "spacer layer".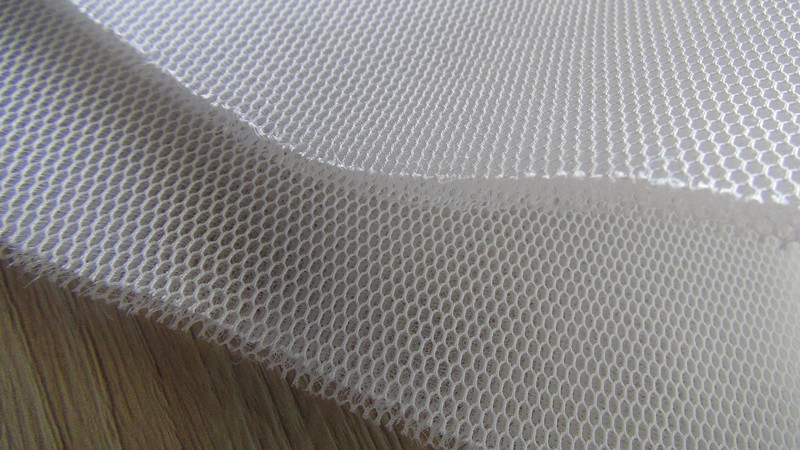 Applications:
Seats: Easily cut AERO-MESH with scissors to fit any size or shape seats. For recummbent bikes, boats, cars, planes, canoes, child car seats to prevent sweaty backs

Laundry: Place AERO-MESH on flat surface, place wet jumper on AERO-MESH, jumper will be able to dry on both sides.

Kitchen: Place AERO-MESH on kitchen sink, place wet dishes on AERO-MESH, dishes will easily drip dry, then roll up AERO-MESH and store for next use.

Wheel Chair: Cut AERO-MESH to size and shape of wheel chair back and bottom. AERO-MESH will allow air circulation between body and chair keeping patients dry and cool

Lockers: Use in lockers where wet shoes, rope, etc is stored, to keep off bottom of locker, allowing item's to dry faster

Cushion: Place AERO-MESH under caravan & boat cushions to prevent moisture

Caravan mattress underlay: place AERO-MESH Mattress underlay between mattress and bed base creating an air space between the two, preventing dampness and mould.