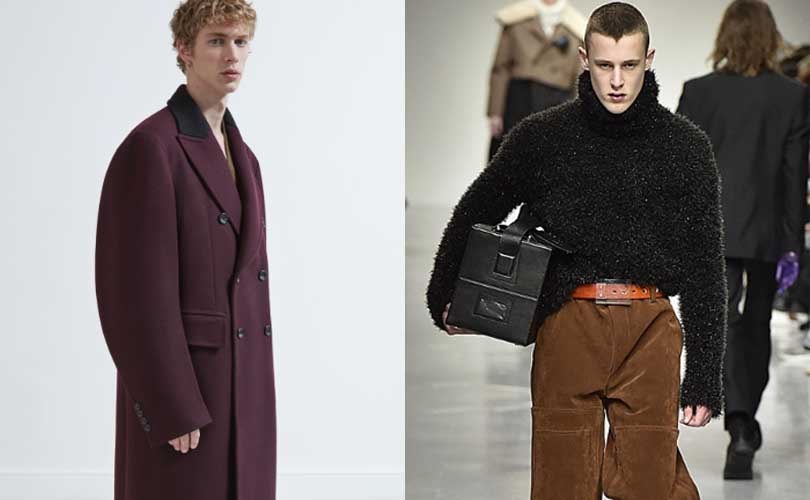 While there were plenty of people championing the success of London Fashion Week Men's, which ended on Monday, there was a noticeable absence of headliner shows. Burberry, usually a stalwart presence at men's fashion week, opted to merge with its women's in February. American lifestyle brand Coach, who showed during London men's last June, took its catwalk presentation back home to New York in December. Also missing were big name guest designers, like Versace, Moschino, Marc Jacobs or other big-league brands who have lit up London fashion week for one-off presentations.
Instead, London is back to what it is best known for, emerging designers, directional fashion, and nurturing future talent, but perhaps less effective at drawing in international buyers and stores. There were highlights, like Craig Green and Topman Design, who reminded us that fashion needs to be an extension of self expression and also fun. Below a round-up of the top trends:
Deconstructed Camouflage
Camouflage was all over the London catwalks. Seen in collections from Christopher Raeburn, Maharishi, Liam Hodges, and even head-to-toe at Nigel Cabourn, camo as we know it came off-beat, in dispersed patterns and in hybrid colours like acid green and coral orange. It was distinctly street style as opposed to luxe casual, as fashion gets updated with this 2017 take on army surplus.
The Artful Print
London fashion week without print, is like London without rain. There was a techno 90s vibe, from Topshop to Vivienne Westwood to Alex Mullins, artful prints came in the form of painted denim jeans, collage patterns, colour-burst graffiti graphics and art-inspired prints. These are bold statements and not for those who are minimally inclined.
The Statement Coat
Big shoulders and oversized outerwear have been around a few seasons, cultivating the notoriety of of French brand Vetements, but the trend had yet to filter down to menswear. Next season's coat will have you fully cloaked and enveloped as seen at Joseph, Zander Zhou and Agi & Sam, the latter which came in double-breasted wool with contrast red piping. Think dropped shoulder, elongated sleeves and very roomy fits. Go a size up if you dare.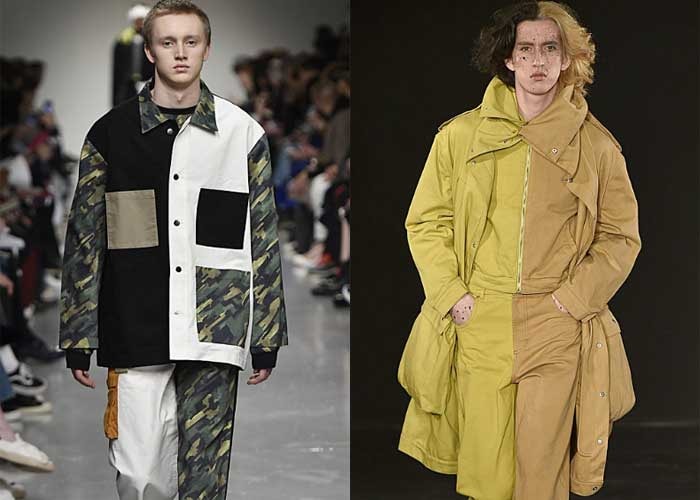 Contrast Panelling
As seen at Christopher Shannon, Hopman and Liam Hodges, jackets and trousers featured contrasts colour panels, such as denim jackets at Shannon, who expertly cut his fabric to utilitarian proportions. While they may be a statement of craft, it will remain to be seen how many many will wear contrast colour trousers, like a left leg in camouflage and right in white denim, as seen at Liam Hodges.
The Roll Neck Sweater
Knitwear has been made cool again with the roll neck, which came with granny embroideries at J.W. Anderson, or oversized, zipped-up and sporty at Joseph. They even came tucked into baggy trousers at Astrid Andersen. Size does matter and the more directional brands went for oversize.
Loose is the New Skinny
Casual wear, sportswear and tailoring had one thing in common at London Fashion Week Men's: the silhouette is loose. No more skinny, rock and roll fitted clothes, there is room to breathe in next season's garments. Easy layering and oversized fits were unanimous in almost all products categories, from outerwear to trousers and tops. Tucking in is cool again, with sweaters tucked into trousers seen at E Tautz and Christopher Shannon.
Photo credit: Alex Mullins, Liam Hodges, Xander Zhou, Joseph, Source: London Fashion Week Mens
Source: Fashion United.