Isko is showing its latest performance-wear innovations, Isko Arquas and Isko Vital at the ongoing Performance Days expo, in hall C6, booth F03. The leading show for fabrics and accessories in functional sportswear, athleisure, safety, and durability, is being held on May 8-9, 2019, in Germany. Isko is a textile manufacturer and a leading producer of denim.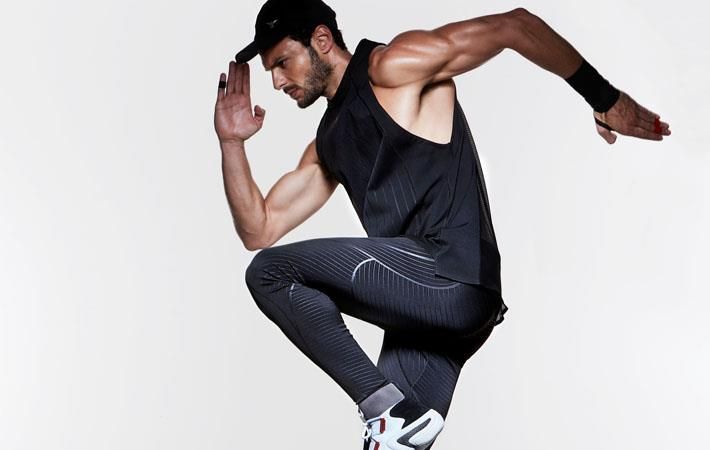 Pic:ISKO
These two platforms cover a broad range of technical and style applications, offering cutting-edge solutions for those brands seeking new performance-enhancing features and exclusive technologies, Isko said in a press release.
Isko Vital is the world's first woven compression technology platform, showcasing unique solutions that prove the company's long-standing R&D effort. Now in the process of being patented, this revolutionary concept in the field of textile research is the result of a two-year study and it can be easily used across several sectors, from sportswear to wellness to travel.
By applying pressure to the body and improving the blood flow, compression technologies involved in Isko Vital facilitate a pumping mechanism that has proven to be accountable for a wide range of benefits. Among these, fast recovery, superior durability, decreased swelling, and enhanced sport performance stand out.
The platform expresses its impressive potential through 18 different inspirational bottom silhouettes, combining both textile and apparel technologies. Isko Blue Skin is an innovative fabric used to create these garments as it offers unrivalled freedom of movement, due to its 4-way stretch technology. Durable and comfortable, it also features 3D shaping technology and holding power for a slimmer, toned look with superb shape recovery.
Gathering a collection of cross-functional fabrics, Isko Arquas turned into a must-have from day one. Greatly influenced by Isko's expertise in woven technologies, it provides ideal solutions for the outdoor, sportswear and activewear sectors. The platform consists of a wide range of textile innovations, bringing specific benefits to shape an advanced collection that features extreme freedom of movement and functionality. Being all woven, fabrics ensure durability and great recovery, making also available a full spectrum of properties such as wind protection, water, and stain repellency, UV protection, anti-odour and antibacterial characteristics. This collection has also widened its focus encompassing finish treatments so as to further enhance its qualities and benefits.
Isko Ultradry deserves notice as it ensures that moisture levels against the skin are kept to a minimum whilst encouraging speedy surface evaporation, providing comfort as well as style, with a genuine cotton hand feel.
In order to guarantee the highest performance standards, these technical features are combined with benchmarking patented concepts. Isko Pop is a glorious fabric providing outstanding performance with the most luxurious finish. This technology starts from the yarn and stays in the garment. Isko Recall is a durable shape memory fabric that does not deteriorate over time or use, retaining a flattering fit. Isko Future Face is the first woven technology with a knitted look. Soft to touch and with enhanced shape retention properties, it grants the typical comfort of a sweat pant. (GK)
Source:Fibre2Fashion News Desk – India