Fashion for Good launched its new Good Shop theme 'Reborn' which dives into brands trying to create apparel and footwear that is circular and reduces need to use new resources. The brands as part of Reborn are C&A, Frankie Collective, Mafia, Pure Waste, Silfir, and Wao, and will be available in Good Shop as part of Fashion for Good experience in Amsterdam.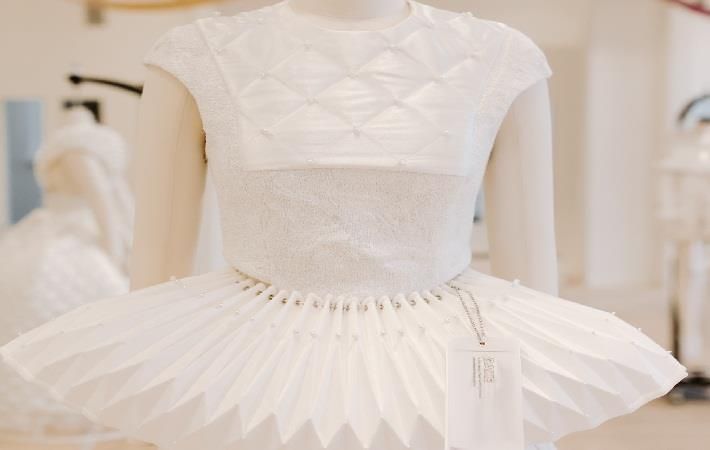 Pic: Fashion For Good
The new theme features brands such as Frankie Collective, reworked overstock that is transformed into highly desired sportswear, Silfir, unisex workwear that can be repaired for every season to keep them wearable and fashionable for longer, and a capsule collection of C2C certified apparel from C&A. The brands will be showcased to public starting October 11.
Featured alongside the theme will be a temporary exhibit of reworked bridal gowns by designer Tess van Zalinge and wedding planner Lotte Grossman under the brand 'tesswithlotte'.
Designer Tess van Zalinge recently announced the new theme to a select group of press, influencers and friends in attendance, while also opening the exclusive exhibition of her reworked bridal gowns created in a limited collection together with wedding planner Lotte Grossman. Experience manager Gwen Boon introduced the concept behind Reborn and the inspirational brands that demonstrate circular fashion is not only possible, but certainly achievable in today's fashion ecosystem. Hannah Kromminga founder of Silfir was also present at the launch to personally speak about their 100 per cent circular unisex workwear.
Circularity in fashion is one of the core ambitions of Fashion for Good which brings together key industry players to collaborate on the creation of a fashion value chain that is restorative and regenerative, shifting away for the current take-make-waste linear model. Good Shop through the featured brands show a few of the creative ways in which clothing is finding new life after use. The carefully curated pieces pioneer a range of innovations that are needed in extending the lifecycle of our clothes, to keep them from being burned or ending up in landfill.
The fourth theme to be introduced in the Good Shop, Reborn also provides the overarching theme for the Fashion for Good activity programming over the course of the upcoming six months. Fashion for Good organises events, workshops and panel discussions aligned around Reborn and circularity in the fashion ecosystem. Visitors can join for the chance to dive into the topic with leading experts, expand their knowledge, and learn from innovators about the pioneering solutions changing the industry and what they can do to make change happen.
Fashion for Good is a global platform for innovation, made possible through collaboration and community. With an open invitation to the entire apparel industry, Fashion for Good convenes brands, producers, retailers, suppliers, non-profit organisations, innovators and funders united in their shared ambition.
Fashion for Good's programmes are supported by founding partner C&A Foundation and corporate partners Adidas, C&A, Bestseller, Galeries Lafayette Group, Kering, Otto Group, PVH Corp, Stella McCartney, Target and Zalando.
Source:Fibre2Fashion News Desk (PC)