Evonik, one of the world's leading specialty chemicals companies, is set to celebrate 35 years of polyimide fibre chemistry by displaying its latest generation of fibre at Techtextil 2019 expo, in hall 4.2, booth B37. The leading international trade fair for technical textiles and nonwovens will be held from May 14-17, 2019, in Frankfurt, Germany.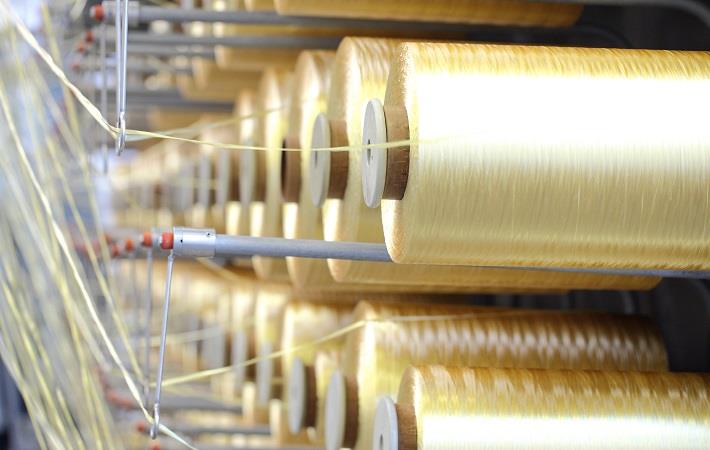 Pic: Evonik
In 1984, for the first time ever, it was possible to spin fibres from the high-performance plastic polyimide. This innovation was embedded by Evonik in the brand name P84 which has stood for high-temperature-resistant fibres for demanding industrial applications ever since, according to a media statement by the company.
"P84 is an excellent high temperature filtration polymer which is able to attract customers in new markets even 35 years after its introduction. Over the years, we have consistently established the polyamide fibre chemistry made in Austria to a worldwide quality standard in various applications," Jean-Marc Chassagne, the managing director of Evonik said.
Due to decades of experience in polymer design, Evonik has now developed a new generation of fibres which fulfil the increased demand of the industry. The new product convinces by its improved mechanical stability at permanent operating temperature. Evonik will be commercialising the new fibre soon.
The high tech fibre of Evonik has a unique multi-lobal cross section which ensures the highest level of filtration efficiency. Because of its excellent physical and chemical properties, P84 high performance fibres are used in a variety of applications. The spectrum reaches from filter materials for high temperature filtration, protective clothing, sealing applications for spacecraft, to a number of other high temperature applications, for example, insulating panels for thermal insulation.
In high temperature filtration processes, filter materials made of P84 fibres maintain a higher permeability at constant pressure drop through the entire life cycle. This leads to lower dust emissions and minimised energy costs.
"For example, more than 150 cement kiln applications are using P84 based filter materials. The energy saving of these optimised filters reduce the CO2 emissions by approximately 60,000 metric tons per year," Stefano Santorsola, the business director for P84 fibres at Evonik said. (GK)
Source:Fibre2Fashion News Desk – India