After leading customer satisfaction in the e-commerce space since 2010, Amazon dropped 4 per cent to an American Customer Satisfaction Index (ACSI) score of 82 (out of 100), according to ACSI's latest Retail and Consumer Shipping Report. By posting an ACSI score of 83, Costco, in its first year in the internet retail category, has overtaken Amazon.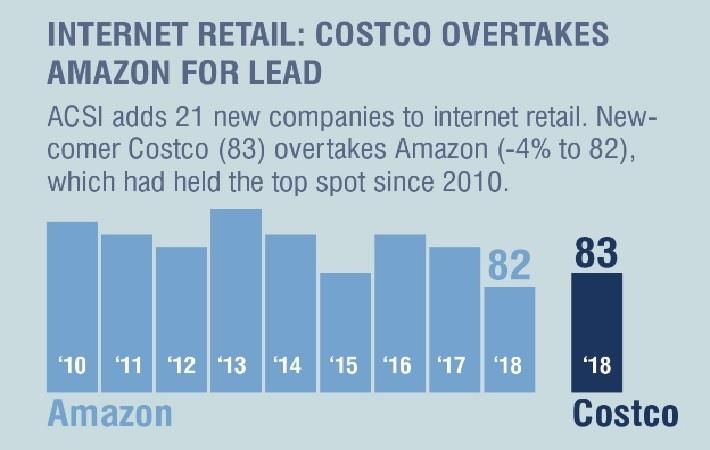 Pic: ACSI
Costco offers 10,000 products on its website and app. It lets customers buy expensive items online, including furniture not previously sold in stores, and gives the option to pick up online purchases in the store. The result of Costco's expanded online offerings has been a 21 per cent increase in online sales since July 2018.
"In a world where most customers are choosing to shop online, Costco has managed to keep its customers coming back to the warehouse. And yet, that hasn't prevented it from dabbling in the e-commerce space. From the looks of it, Costco is clearly succeeding there as well," ACSI said on its website.
According to the ACSI report, Costco wasn't the only newcomer to score high in its first year in the internet retail category. Among the 21 new companies, Etsy, Kohl's, Nike, and Nordstrom each debuted with an ACSI score of 81. Apple, HP Store, Macy's, Target, and Wayfair also made strong impressions, each scoring 80.
"The expansion of this (internet retail) category makes Costco's top-ranking performance all the more impressive. Costco has historically succeeded in categories linked to the in-store experience – especially when you consider the popularity of its pizza – so when you factor in the e-commerce experience, the results seem almost inevitable," ACSI said.
Membership-based warehouse stores were the real winners in the retail trade sector in 2018, and none shined quite like Costco. Explaining Costco's recipe for success, the report says brick-and-mortar stores are the company's bread and butter, and that's unlikely to change. "Customers enjoy the experience of shopping at Costco, they remain unwaveringly loyal – 90 per cent of Costco members renew their subscriptions – and perhaps most importantly, they appreciate the value they receive." (RKS)
Source:Fibre2Fashion News Desk – India