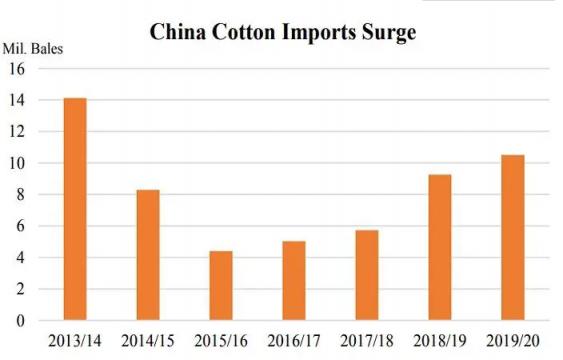 Pic: FAS/USDA
China's cotton imports in 2019-20 are likely to surpass the previous year's robust level, and the country will remain the world's largest importer, the US department of agriculture (USDA) said in a report. However, US cotton exports to China are weakening while that of Brazil and Australia are expanding both in terms of volume and market share.
"The current 2018-19 estimate, boosted this month, is expected to be the largest in 5 years as China supplements domestic supplies amid ongoing auctions of State Reserve stocks," the Foreign Agricultural Service (FAS) of the USDA said in its July 2019 report 'Cotton: World Markets and Trade'.
Despite the strong upward trend in Chinese cotton imports, US exports to china have weakened. "The additional 25-percent tariff on US cotton (implemented July 2018) has curtailed its historically dominant position as China's leading supplier, with estimates suggesting these duties add RMB 4,000 ($600)/ton," the report said.
Moreover, record 2018-19 exportable supplies from Brazil have improved its competitiveness relative to US cotton, while Australia's proximity and large carryin supplies have supported recent strong shipments.
Notwithstanding increased competition and tariffs, 1.3 million bales of US cotton were imported by China from August 2018 to May 2019. "Although US 2019-20 global exports are expected to grow from the previous year, shipments to China may be impeded amidst projected record 2019-20 exportable supplies from Brazil and because of current trade policies," says the report. (RKS)
Source:Fibre2Fashion News Desk – India