American Blossom Linens, direct to consumer brand from 122 year old Thomaston Mills, has launched an organic cotton blanket grown to sewn in the US. For the past 20 years, Thomaston Mills, a family owned bedding manufacturer focused on the healthcare and hospitality market. Hilton, Marriott, Radisson, and Intercontinental hotels have all used their sheets.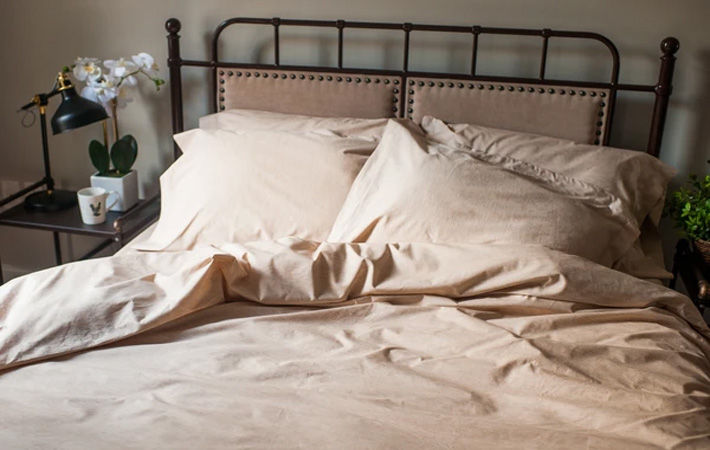 Pic: American Blossom
Unlike textiles sourced from overseas, which travel on average 8,000 miles from the factory to your door, American Blossom Linens bedding is made only in the US using 100 per cent traceable organic cotton grown by family farmers. Their bedding is grown, processed, finished, and sewn in the US, drastically reducing its carbon footprint while supporting American workers all along the way, according to Thomaston.
Recently, the company surveyed their customers to ask what additional products they would like to see added to the American Blossom Linens line. The customers demanded for blankets. After searching all over, they chose to partner with a family owned mill in Monmouth Maine, which has been making blankets since 1850. The mill is weaving their new Herringbone blankets which are beautifully crafted with organic American cotton farmed without harmful pesticides, GMOs, or chemical defoliants. They are breathable but insulating, not too warm for hot summer nights, but cosy enough when the weather turns cool. The perfect weight, super soft Herringbone Blanket makes a cosy layer for the sofa or the bed, no matter the season, Thomaston said.
The queen, king, and throw sizes are available in two colours, American Harvest, a neutral beige shade and Patriot Blue, a rich blue shade. They are machine washable and dryable. Color American Harvest is made from a combination of natural West Texas organic cotton yarn and Foxfibre Coyote Brown heirloom cotton yarn. Foxfibre is organically grown in a rich colour which is integral to the fibre itself. Not a drop of artificial dyes is needed to make these blankets beautiful. Color Patriot Blue, made from West Texas organic cotton, is a combination of natural yarn and blue yarn. This beautiful rich blue yarn is created by a century-old mill in North Carolina using low impact dyes, Thomaston said in a media statement.
The popular sheet and duvet collection, which has been available for about two years, on the American Blossom Linens website, includes sheet sets in twin, full, queen, king, California king and split king, duvet sets in full/queen and king, pillowcase sets and a crib sheet. Available colours are natural, white and latte linen made from a blend of West Texas organic cotton and Foxfibre, naturally grown coloured cotton. The linens are generously sized with extra deep pockets to provide an excellent fit on almost any height mattress. Top or Bottom labels act as visual cues to help you place the fitted sheet correctly on the mattress, according to a press release by the company.
Source:Fibre2Fashion News Desk (GK)