More people are buying clothes online, with 63 per cent of gen z and 57 per cent of millennials shopping on Amazon, with gen z showing a strong affinity for buying clothing directly from brand websites, claims a new research. With its two-day shipping, easy checkout and returns, and enormous catalog of brands – Amazon is rewriting the playbook for retail.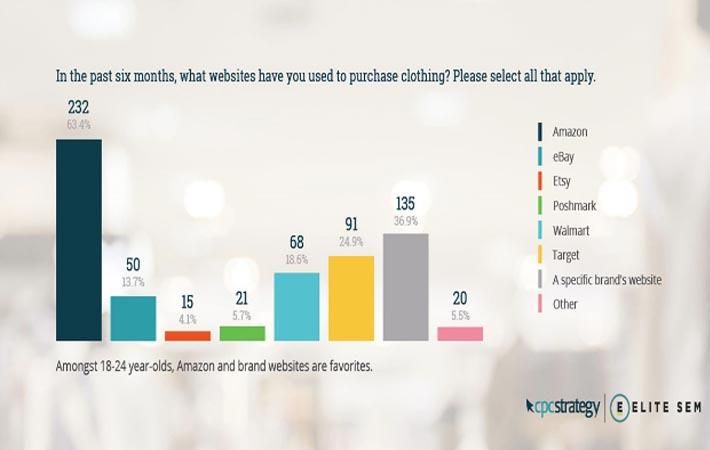 Commissioned by CPC Strategy, a retail-focused digital marketing agency, the survey '2019 US Forecast on Apparel Shopping Trends', asked a series of questions to 2,000 online respondents aged 18-65 including how often they shop for clothes online, what items they have purchased in past six months, which devices they prefer to use, and what category they are most likely to consider for off-brand/generic apparel.
The key findings of the report suggest that casual wear is a top category with 59.2 per cent of shoppers buying casual wear online, a number that jumps to 70 per cent when looking at gen z only.
Mobile is catching up to desktop with young shoppers. Sixty-three per cent of shoppers are still using desktop for apparel shopping, however, 42 per cent of these same consumers also use mobile — a number bolstered by gen z and millennial shoppers.
Shoppers are willing to explore private label basics. 47.4 per cent of shoppers said they would consider purchasing off-brand casual apparel over a name brand.
Free shipping was rated top feature for apparel websites with 53.9 per cent respondents valuing free shipping more than any other feature when it comes to making apparel purchases online — far more than customer reviews, easy returns, and the ability to filter items.
Key take away from the research for brands to succeed in 2019 is that they must build visibility across multiple channels. That could mean improving the functionality and features of an e-commerce website on desktop and mobile, investing in premium content if that brand is selling on Amazon, and implementing a paid media strategy to scale traffic to each. (PC)
Source:Fibre2Fashion News Desk – India