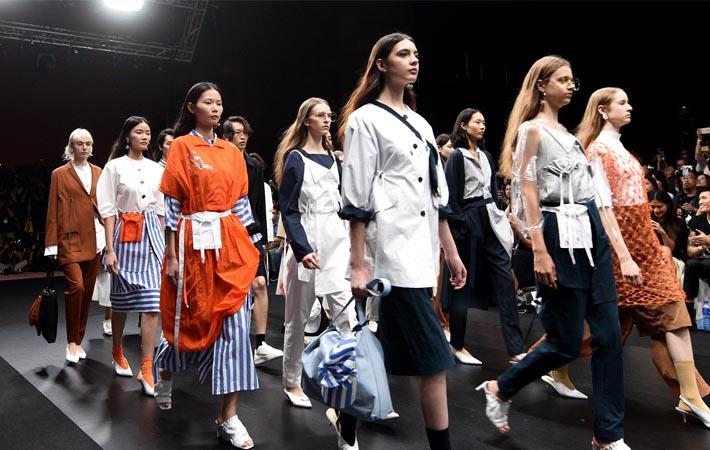 CentreStage 2018, the third edition of Asia's premier fashion event, will have a record-breaking 220 fashion brands from 22 countries and regions as participants. Brands and designer labels from Austria, Germany, Poland and Switzerland will participate in the event for the first time. It will be held from September 5-8, 2018 in Hong Kong.
Organised by the Hong Kong Trade Development Council (HKTDC), the event has rapidly gained momentum since its inception and continues to solidify Hong Kong's position as a fashion hub in Asia, offering an ideal platform for fashion brands and designers to gain local and international exposure.
"We are excited that CentreStage can offer local and international designers a platform to grow their brands. It provides brands with a unique opportunity to engage with global buyers and fashionistas in the fashion hub of Asia," said HKTDC deputy executive director Benjamin Chau at the media preview of the event.
This year's event will centre on the theme of 'Tomorrow Lab'. It will feature three thematic zones: Allure – representing craftsmanship, refinement and elegance; Iconic – displaying contemporary, chic and avant-garde designs; and Metro – showcasing casual, youthful expressions of urban life.
CentreStage 2018 will also present about 40 events, including more than 20 fashion shows, over its four-day run. Brands and designers will have the opportunity to connect with buyers, media and fashion professionals during these activities, said the organiser in a press release.
Three internationally celebrated Asian fashion labels will present their latest 2019 Spring/Summer collections at the opening gala show CentreStage Elites: Japanese avant-garde streetwear label Facetasm by Hiromichi Ochiai, Hong Kong ready-to-wear womenswear label Idism by design duo Cyrus Wong and Julio Ng, and Chinese luxury womenswear label Ms Min.
More than 20 fashion shows presenting the latest collections by exhibiting brands will be held during the four-day show. The 'Fashion Hong Kong Runway Show', following CentreStage Elites on September 5, will feature eight Hong Kong designer labels – Anveglosa, Doriskath, Harrison Wong, House of V, Loom Loop, Maison Vermillion, Meiking NG and Methoddlogy.
Also, on the first day, online fashion hub Fashionally will feature its Fashionally Collection #12 fashion show, where 10 rising local fashion designers will collaborate to highlight Hong Kong's design prowess. Another highlight of this year's CentreStage will be the finals of The Hong Kong Young Fashion Designers' Contest 2018 (YDC).
Furthermore, Redress, a non-government-organisation promoting environmental fashion, will present the Redress Design Award, the world's largest sustainable fashion design competition, on September 6. The Knitwear Innovation and Design Society will present the Knitwear Symphony 2018 & the 8th Hong Kong Knitwear Designers' Contest on September 7 to promote Hong Kong's knitwear design and wool manufacturing capabilities. On the same day, renowned local designer Dorian Ho will stage a fashion show to unveil the latest collection of his namesake label.
A star-studded line-up of international style masters and industry experts will share their perspectives on industry trends and the future of fashion during the Meet the Visionaries Series and Trend Talk Series of seminars. The Fashion Summit, the first large-scale summit in Asia on sustainability in fashion, will be held from September 6-7 under the theme 'Circular Economy'.
In collaboration with over 100 partners, including retail stores, hotels and institutions, Hong Kong in Fashion will also feature more than 90 entertaining and engaging events beyond the CentreStage fairground, including exhibitions, workshops and dance performances, as well as promotions featuring themed afternoon tea sets and giveaways. (KD)

Source:Fibre2Fashion News Desk – India

Keywords: fashion