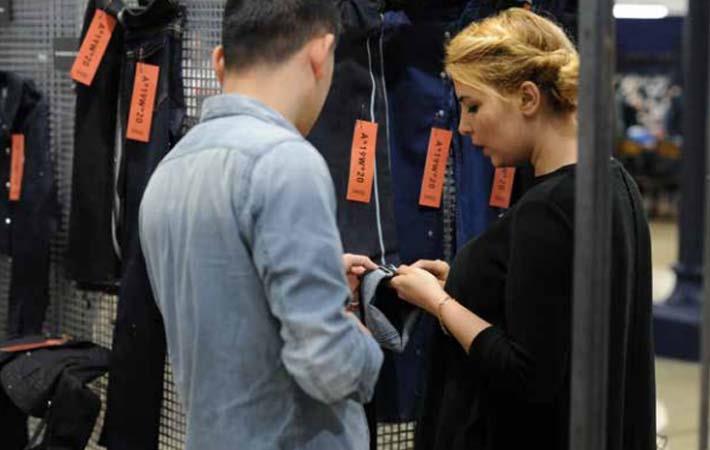 Over 1,400 mid-to very-high-range fashion brands, designers, luxury players, pure web players and jeanswear leaders attended the recently held Denim Première Vision in Paris, creating a new visitor target for the event. The new, semi-itinerant format dedicated to the contemporary denim and creative fashion markets was introduced by the Denim Première Vision.
Focused, user-friendly and business-oriented, the redesigned first edition of Denim Première Vision marked the turn of the show towards a highly fashionable and contemporary positioning. This was reflected in the select, specialised and international offer, a brand-new informative and forward-looking trend decoding, strengthened discussions around issues of eco-responsibility in the sector, a new and more efficient look and lay-out, and finally a programme of seminars and workshops filled with visitors.
Attendance at the event comprised 78 per cent European, led by France followed by Italy, the UK, Turkey, Spain Germany and the Netherlands, said the event organiser in a press release.
Initiatives at the event included a selective offer, a new fashion forum that resituates materials and creativity at the heart of the show, an unprecedented and inspiring collaboration with designer Lutz Huelle, a much-appreciated space dedicated to responsible innovations, forward-looking and complementary fashion seminars that were eagerly attended and a new socio-cultural conference on the future challenges of denim.
As many as 73 exhibitors were chosen from among the top specialists in Europe, Turkey, the Mediterranean Basin and Asia. An offer enriched by an SMQ Corner, an area dedicated to small quantities, was also made to adapt to the needs of the industry's newest players.
The next edition of the event will be held in London on December 5-6, 2018. (KD)

Source:Fibre2Fashion News Desk – India
Keywords: fashion , Fashion brands , denim