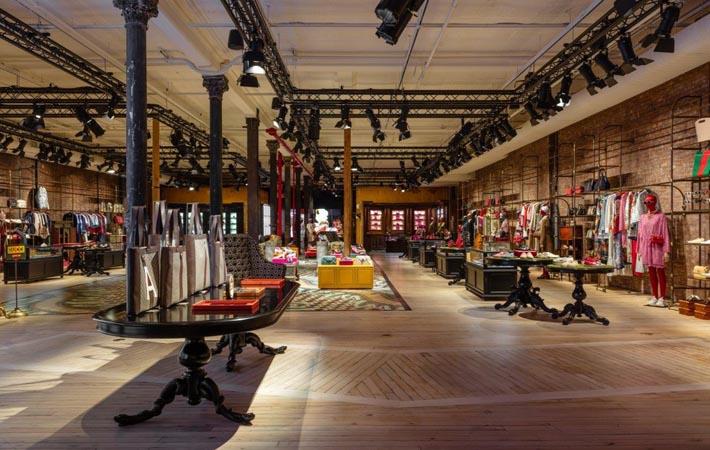 Brand: Gucci
Company: Kering SA
Location: 63 Wooster Street, SoHo, New York
Area: 10,000 sq ft
Product profile: The store houses women's and men's ready-to-wear, jewelry, accessories, and décor.
The store will be the first in the world to feature the new Gucci DIY assortment including lettering in a variety of fabric and colour combinations on unisex luggage and Ace sneaker. A digital interactive tool will be unveiled at the store allowing clients to view their customised product in real time through AR technology.
The store will also be the first to preview the new Gucci-Dapper Dan collection two months prior to other locations. This next phase of the collaboration with the Harlem tailor, who built a cult following in New York in the 1980s and early 1990s takes its cue from his archive and re-imagines the types of garments and accessories for which he is known for in Gucci's luxury materials.
Store design | Interiors & VM | Fixtures: The design concept of the store was conceived exclusively to maintain the integrity of the original framework. The restored brickwork, wooden floors, tin ceiling, and iconic columns highlight the intricate cast-iron architecture that characterizes SoHo. Three different hand-painted floor designs, executed by Italian artisans, introduce colour and pattern, while original steel tiles speak to the neighbourhood's industrial history. Bold colours of turmeric orange and burgundy Guccify the interior and seating is covered in Gucci prints and fabric. Luggage carts, freestanding furniture with stone inlay and vintage pharmacy fixtures display products throughout the space. Reinforcing the industrial spirit of the building, custom brass fixtures frame the brick walls.
There is an innovative team called "Gucci Connectors" whose focus is engaging customers in the brand's unique narrative.
In addition to an interactive LED wall, the store also debuts 3D video display. These innovative screens feature glasses-free 3D technology and will immerse viewers into the realm of Gucci. The video displays are housed within an intimate screening room equipped with custom Muzik headphones and armchairs in turmeric velvet. The screening room and dedicated space hosts rotating and seasonal creative initiatives.
About the company:
Gucci is an Italian luxury brand of fashion and leather goods, founded by Guccio Gucci in Florence in 1921. Under the new vision of creative director Alessandro Michele, the House has redefined luxury for the 21st century, further reinforcing its position as one of the world's most desirable fashion houses. Gucci is part of the Kering Group, a world leader in apparel and accessories that owns a portfolio of powerful luxury and sport and lifestyle brands.
Source:Fibre2Fashion News Desk – India
Keywords: Gucci , Gucci DIY