The South African wool market was unchanged at this week's auction and the Cape Wools Merino Indicator decreased slightly by 0.5% and by 84 points to close at a value of R161.72 (Clean). The Cape Wools All Wool Indicator lost 0.9%.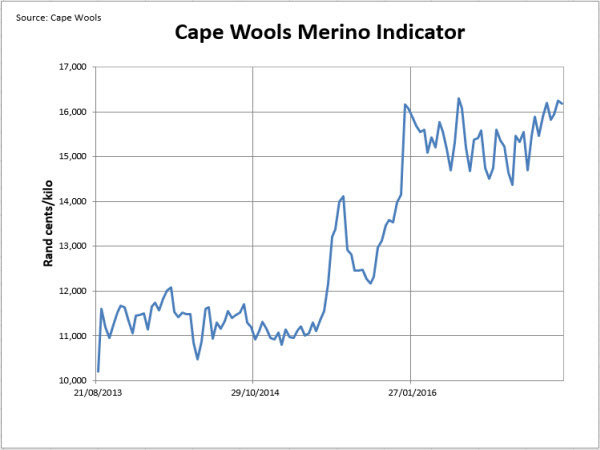 The wool market maintained its good performance to end unchanged. The finer wool is still in high demand and good prices were achieved. In the mid micron groups, demand was muted and prices fluctuated more readily. There was good competition between buyers mainly as a result of the smaller offering. Modiano impressed by again purchasing substantially more wool compared to its closest rival for the second week running.
This week saw the Rand at R12.99 to the US Dollar. The Rand was 0.6% stronger against the US Dollar compared with the average rate at the previous sale. The Rand was 2% weaker against the Euro, trading at R14.05.
The offering comprised 8,210 bales of which 98.1% was sold. Major traders were Modiano (2,643 bales), Lempriere SA (1,903), Standard Wool SA (1,772) and Stucken & Co (1,009).
The average clean prices for the selection within the different micron categories for good top-making (MF5), long fleeces were as follows: 18 microns gained 1.7% to close at R201.04/kg; 18.5 microns decreased 0.3% to close at R197.09/ kg; 19 microns gained 0.6% to close at R184.79/ kg; 19.5 microns decreased 1.8% to close at R170.00/kg; 20 microns decreased 0.9% to close at R156.80/kg; 20.5 microns moved down 1.2% to close at R147.79/kg; 21 microns weakened 0.2% to close at R145.83/kg; 21.5 microns decreased 0.1% to close at R143.27/kg; 22 microns lost 1% to close at R141.50/kg; and 22.5 microns increased 0.1% to close at R143.03/kg.
Source: Cape Wools.
Keywords: Wool , South Africa , wool market