Herrmann Ultraschall has developed an automated ultrasonic assembly line to minimise bacterial contamination in a new, patented abdominal swab called TexArt, produced by Portugese medical device manufacturer Bastos Viegas.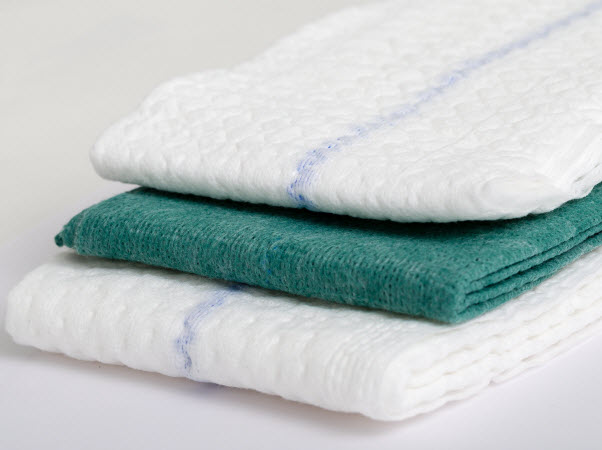 The new swab reportedly enables automated roll-to-finished products assembly compared to a complex sewing process with ample manual handling steps. TexArt is composed of three layers using woven and nonwoven technology. A textile net in the middle (made of polyamide/polyester) with an x-ray thread is placed between two layers of a spunlace nonwoven (made of 70% viscose and 30% polyester). The wrinkled surface of TexArt increases the absorption rate and produces a soft and sponge-like feel.
Low linting
Linting is defined as the release of fibre fragments and other particles during handling and use. Low linting is one of the biggest advantages of using nonwoven spunlace materials compared to cotton gauze. In a test, release of particles (dry linting) according to EN1644-1 and ISO9073-10 was verified. The result shows a better performance for TexArt in comparison to pre-washed gauze, says Bastos Viegas.
Minimal contamination
The company tackled the challenge of how to bond the new material composition without heat and consumables by choosing ultrasonic technology. Spunlace nonwovens are said to react extremely well to ultrasonic vibrations. Herrmann Ultraschall was chosen as a partner to develop a new machine concept for the new product.
As a first step, the correct unwinding of the three layers had to be designed, and all ultrasonic steps then had to be incorporated. Step one involved ultrasonic lamination of the three layers and sealing of left and right edge lines; and step two involved cross-sealing the end of one swab to mark the beginning of the next.
Lastly, the product was cut, folded and stacked. After assembly, during the sterilisation process the material contracted, resulting in the wrinkled surface for a good absorption rate and soft feel.
A producer and supplier of non-active medical devices, Bastos Viegas applied a long-term product strategy which already takes into account the upcoming new Medical Device Regulation MDR (going into effect as of the year 2020). "The TexArt swab is a highly performant medical device that can replace traditional cotton gauze dressings with an extremely reduced lint factor, absence of loose threads and increased absorbency, to name just a few of the superior characteristics. This means consequent improvements for surgical procedures and patient safety in the operating room," says Luis Guimarães of Bastos Viegas.
The ultrasonic welding process
In order to carry out ultrasonic welding of nonwoven materials, the thermoplastic fibres are activated by mechanical vibrations, thus melting and bonding in pre-defined patterns. A weld tool, referred to as the sonotrode, transmits the vibration into the nonwoven material. In industrial applications, ultrasonic frequencies between 20 and 35 kHz are common, with amplitudes (tool travel distances) of 10 µm to 50 µm. Processing of nonwoven materials is often performed in continuous processes at a high web speed. By applying rotary tools, it is possible to achieve processing speeds of up to 800 metres/minute. A specifically engraved drum is used as a welding, embossing or cutting anvil. The contour of the anvil drum focuses the energy and precisely defines the weld spots required for the respective product, explains Hermann Ultraschall.
Source: Wtin.
Keywords: Textile , nonwoven , medical nowoven